2013 Independent Games Festival announces Student Showcase winners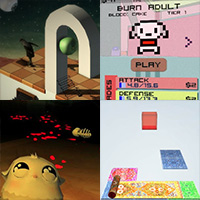 The Independent Games Festival has announced the eight Student Showcase winners for the fifteenth annual presentation of its prestigious awards, celebrating the brightest and most innovative creations to come out of universities and games programs from around the world in the past year.
This year's showcase of top student talent include the first-person meta-videogame ATUM, from the Netherlands' NHTV IGAD, the similarly meta-game-ified pen & paper RPG Knights of Pen & Paper, from Brazil's Instituto de Ensino Superior de Brasilia & Universidade de Brasilia, and the Jet Set Radio-esque Zineth, a game which "celebrates speed, movement & Twitter", from students of the Rensselaer Polytechnic Institute.
In total, this year's Student Competition took in over 300 game entries across all platforms -- PC, console and mobile -- from a wide diversity of the world's most prestigious universities and games programs making the Student IGF one of the world's largest showcases of student talent.
All of the Student Showcase winners announced today will be playable on the Expo show floor at the 27th Game Developers Conference, to be held in San Francisco starting March 25th, 2013. Each team will receive a $1,000 prize for being selected into the Showcase, and are finalists for an additional $3,000 prize for Best Student Game, to be revealed during the Independent Games Festival Awards on March 27th.
The full list of Student Showcase winners for the 2013 Independent Games Festival, along with 'honorable mentions' to those top-quality games that didn't quite make it to finalist status, are as follows: