IGF 2013 Adds 'Excellence in Narrative' Category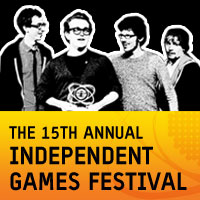 [Independent Games Festival chairman Brandon Boyer is interrupting this year's Festival for a brief but important announcement.]
Hello everybody, and welcome to a special IGF 2013 mid-stream announcement that, after much careful consideration and discussion, we decided was a necessity:
We're adding a new category to this year's festival, Excellence in Narrative.
This may not come as too much of a shock, because it's something that judges, entrants, and the general public have been asking for for quite some time now. Our initial decision to not add the category was not one we took lightly.
It was the subject of many rounds of internal discussion on both the necessity and logistics of adding a category devoted to recognizing narrative innovation, especially as we were making strides to remove categories and pare the festival down to a few core essentials.
But as judging kicked off in early October, it was clear that there was something special about this year's lineup of games in particular that made the absence of a Narrative category especially conspicuous. And so, because so many of our judges have said there are so many games in this year's festival that they specifically want to recognize for their world and their story, we are giving them an avenue to do so.
We'll be defining this new Excellence in Narrative category in much the same way our sister festival, the Game Developers Choice Awards, does: it's a category to recognize "innovation, quality, and impressiveness of storytelling in a game, including, but not limited to, scenario, plot construction, story, dialogue, and other major factors."