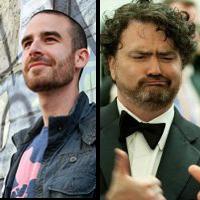 Tim Schafer and Nathan Vella host next week's GDC and IGF awards
We're happy to confirm that Double Fine founder Tim Schafer will once again take the stage during the 2015 Game Developers Conference to host the 15th annual Game Developers Choice Awards. The same stage will also welcome back Capybara Games founder Nathan Vella as host of the Independent Games Festival awards, now in its 17th year of celebrating the work of independent game makers.
The ceremonies kick off at 6:30 PM on the evening of Wednesday, March 4th during GDC 2015 in San Francisco.