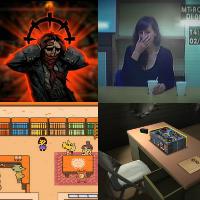 2016 Independent Games Festival debuts finalists
The Independent Games Festival (IGF) judges have announced the slate of finalists for the esteemed 18th annual awards, which honors the most influential, innovative and exemplary projects in independent game development.
After an initial round of judging by over 400 evaluators, the more than 750 entries for the 2016 IGF Awards were distributed to a group of experts from across the industry for final consideration. These expert juries specializing in distinct disciplines for each category then selected the IGF finalists after playing, discussing and rigorously evaluating them.
Among the slate of artfully crafted titles, a few projects in particular have received award nominations in multiple categories, including Dinosaur Polo Club's minimalistic subway layout game Mini Metro, and Sam Barlow's engrossing crime fiction game Her Story.