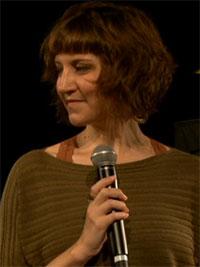 IGF: A letter from the new Chairperson
First off, I'd like to thank Brandon Boyer for his years of hard work with the Independent Games Festival and his contribution to the indie games community - here's his goodbye note to you all. The full, official announcement post for the 2016 Independent Games Festival is available here.
I'm very excited for the opportunity to continue Brandon's position as chairperson for the IGF. When I first started the Indie MEGABOOTH more than four years ago, I couldn't imagine all the incredible opportunities it would provide me. I've been able to work alongside so many wonderful companies and am continually learning and challenging not only myself, but the hundreds of developers I've had the privilege of working with over the years. At the Indie MEGABOOTH, we're constantly evolving how to help support and grow the community along with fostering an atmosphere that encourages working together to affect the industry as a whole.
Although the Indie MEGABOOTH focuses on consumer events, network creation and community building, I feel my experience in these areas can be translated into effectively managing a professional industry event. I've always seen the Independent Games Festival as an industry celebration of the games and developers who are shaping how we view the industry as a whole. With hundreds of industry professionals reviewing and discussing entries, the IGF allows the highest in peer recognition for games of all styles and genres.
I intend to continue moving the indie game community forward in a way that promotes positivity, rewards creativity and inspires future developers, while working with both the IGF and the Indie MEGABOOTH. As more and more people join the industry it is more important than ever to provide consistently high standards of work, promote positive role models, and reward innovation and forward thinking. I'm incredibly excited to share my ideas and values with my upcoming work at IGF.
And now down to business!
I've been reviewing all aspects of the entrant process, judging and awards and I'd like to take some time here to discuss new ideas and changes we plan to implement for this year. Since this will be the first year I'll be involved in the process from start to finish, we're holding off on any major changes, but there are a few items I've gotten feedback on or things that could be streamlined which are outlined below.
IGF Entry Fee and Feedback Changes
The Main Competition fee to enter the IGF is reduced from $95 to $75 starting this year. This new pricing reflects the desire to make the competition more affordable, and also a change in how we plan to handle providing developer feedback.
Developer feedback has always been an optional part of the judging process and in general, having the game played in detail by multiple judges takes precedence over providing written feedback. While the feedback is well intentioned, without having a clear structure it is often inconsistent or on par with what a normal user playtest would provide.
So we'll be removing written judge feedback - at least for this year - to concentrate on further optimizing the judging process, getting people playing as many games as possible and formalizing the feedback system.

(Please keep in mind all entry fees are directly used to fund the prize money that developers receive!)
IGF Student Entry Changes
This pricing change also leads us into a restructuring of how the Student Competition is run. In the past the fee for all student entrants was waived, and therefore they were ineligible for Main Competition prizes (unless they entered the Main Competition in addition to the Student Competition). This also meant that the student entries were judged in a separate set of submissions.
To help shine a brighter light on the high quality of student entrants, all Student Submissions are now automatically eligible for the Main Competition along with the Best Student Game prize. This means we'll be judging all the games together, with the same judges as the Main Competition. The student entry fee is now $25 to reflect these changes.
You'll find more information on deadlines and other rules in the 2016 IGF's official opening announcement, but you can go ahead and enter your game right now if you want.
I'd like to again thank Brandon, along with all the developers and teams who plan to enter their games in the future. I'm looking forward to working with you all and I'll be seeing you at GDC!