The Independent Games Festival was established in 1998 to encourage innovation in game development and to recognize the best independent game developers.
The goal was to create a similar event to Sundance for independent game developers - and that's just what has happened with the Independent Games Festival.
The festival consists of the IGF Ceremony, the IGF Pavilion, and Independent Games Summit, all taking place during the week of the Game Developers Conference. For 2021, the IGF has followed GDC in a move to July for the annual Summit and Award Ceremony.
The Independent Games Festival will be distributing eight major awards at its ceremony, as follows:
Seumas McNally Grand Prize
Excellence in Visual Art
Excellence in Audio
Excellence in Design
Excellence in Narrative
Nuovo Award
Best Student Game
Audience Award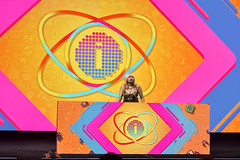 The Independent Games Festival competitions have a diverse, industry-leading set of judges which includes representatives from mainstream games, the press, significant independent gaming websites, as well as previous winners, finalists and a number of indie veteran judges from the previous IGF judging pool.